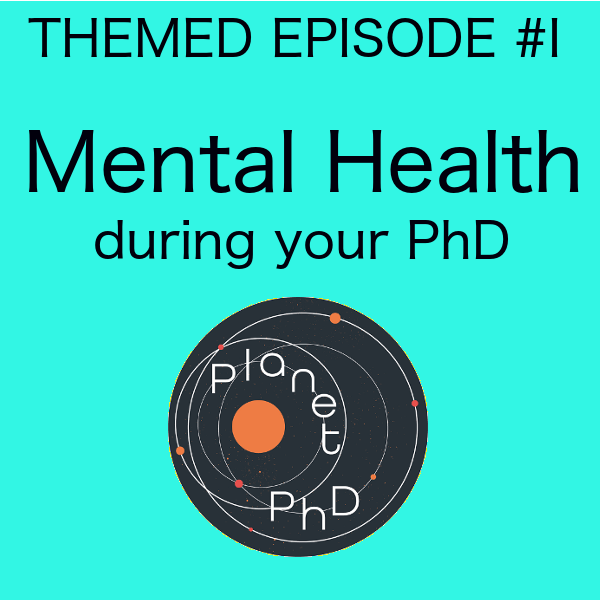 In our first themed episode, Mental Health during your PhD, we chat to the wonderful Sophie Valeix and Josh Hutton, both previous PhD students, about mental health and wellbeing during the doctorate*.
As well as sharing their personal experiences of mental health issues during their PhD, our guests talk to us about why they think doctoral students are particularly vulnerable to developing problems with their mental health. We ask them to share their advice for anyone who is currently concerned about their wellbeing or someone else's, and we discuss protective factors such as changing supervisor, integrating a 'self-care day' into your week, and creating manageable goals. 
*We remind our listeners that Sophie, Josh, Veronica and Gigi are not mental health-trained professionals. 
----------
This episode was originally recorded on University Mental Health Day 2019 - the theme this year was "Use your Voice", so we recorded a live episode with an audience of PhD students, to open up the conversation. Sadly that recording was lost! This is our second round, so thank you to Sophie and Josh for joining us again.
Sophie and Josh both now work on Project U-Doc, a project that aims to understand the mental health of doctoral researchers throughout the UK. The project also works to provide innovative solutions at the University of Sussex, where it is based, such as mandatory supervisor training and opportunities for Sussex doctoral researchers to fund their own mental health and wellbeing initiatives
(1) Levecque et al. (2017) Work organization and mental health problems in PhD students. Research Policy, 46(4): 868-879. 
This study on IFL science : https://www.iflscience.com/brain/half-phd-students-suffer-psychologica-distress/
--------
Follow Project U-Doc on Twitter: https://twitter.com/projectUDOC